Special Jury Prize, Frank Moffett Mosier Fellowship for 2021
Lennart Nielsen
Special Jury Prize, 2021 Frank Moffett Mosier Fellowship for Works in Heightened Language, for Again, the Spell. Zoom reading in July of 2022.
About Lennart Nielsen
LENNART NIELSEN is a German-American writer and actor. He earned his B.A. in Communications from Northwestern University in 2021, focusing on Theatre, International Studies, and Creative Writing. He is interested in exploring intersections of language and perceptions of time in his work. Current projects in development include the poetry collection Penumbral Floaters. He has twice won the Jean Meyer Aloe Prize from the American Academy of Poets for his poetry. He is based in New York.
Website: lennartnielsen.com Instagram: @lennartn23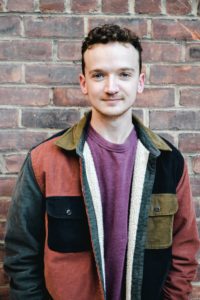 About Again, the Spell
A farcical, time-traveling story set in an ancient forest, Again, the Spell uses mistaken identity, lovers at cross-purposes, and faith that inter-human communication is sometimes possible to tell an optimistic tale about personal identity, conviction, and love.